Anky: my favorite items from the AW 20/21 collection
Two weeks ago a huge box of Anky Technical Casuals arrived at my doorstep… Partytime!!!
The package was full of clothing that I'd selected a while ago. So it's about time to tell you what my favorite items of this season are.
Curious to find out which pieces from the fall collection I love most? Check out my overview below.
ANKY® Stepped Waistcoat ATC202001
Let's start off with my favorite item from the entire collection: The gilet from Anky, the Stepped Waistcoat.
It's a super nice, formfitting gilet with a lot of stretch. The padding is made of faux down and very warm! I especially love the asymmetrical collar that I usually like to wear open.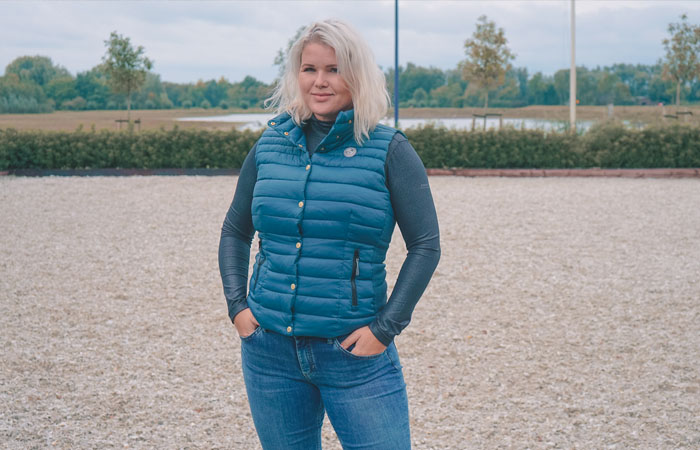 During the last Training Days, someone asked if this was my own collection. And considering the color, it definitely could've been! The color pallet is very 'DressagePro', perhaps that's why I'm so in love with it.
The gilet costs €129,95 and is available in the color blue slate (the one I have), fuchsia red, dark navy, and gold.
ANKY® Thermo Parka ATC202003
Last year I chose a long winter jacket from Anky, and this time I went for a shorter version. Often, it's too warm for a long winter coat, but this one is ideal! Especially because you can ride in it!
You can adjust the waist with the silver laces. However, I see that I didn't do that very nicely on this photograph.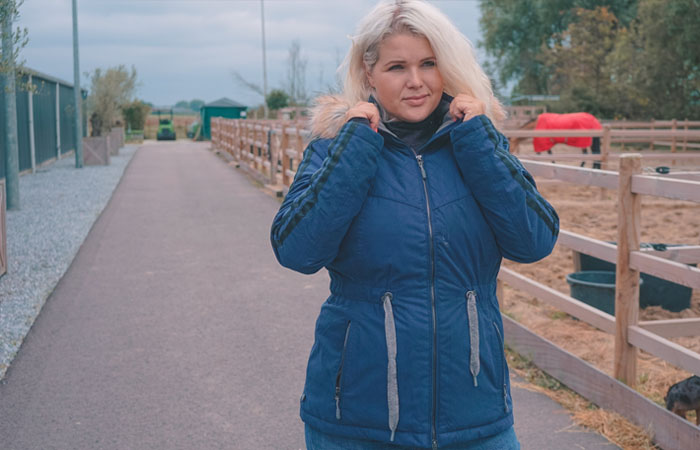 The jacket is priced at €229,95 and available in the color dark navy and blue slate.
ANKY® 3D Sweat Jacket ATC202103
This is a super nice jacket with a fantastic pattern. Besides, this jacket is very chique thanks to the gold elements.
And I've also been wearing this jacket to the gym. That's what I love about Anky, their items are super suitable for sports and heavy work-outs. You can't say that about every equestrian brand.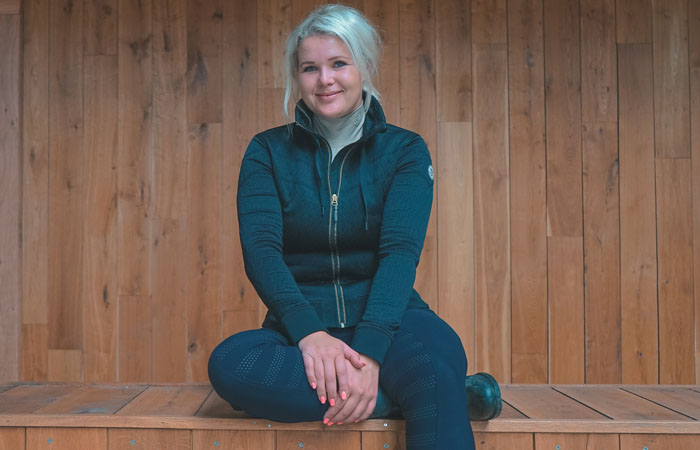 The jacket costs €119,95 and is available in the color black and slate blue.
ANKY® Technostretch Jacket ATC202101
This is one of those jackets that returns every season in another variation. And you can be sure of one thing: the only reason that you'll need to get rid of a jacket like this one, is because you've grown out of it. The quality is superb and they'll last for years.
Here, I'm wearing the jacket in the color ice blue. The mock neck in ice blue matches it perfectly, but the mock neck in the color gold does too! Because this jacket has golden details around the collar.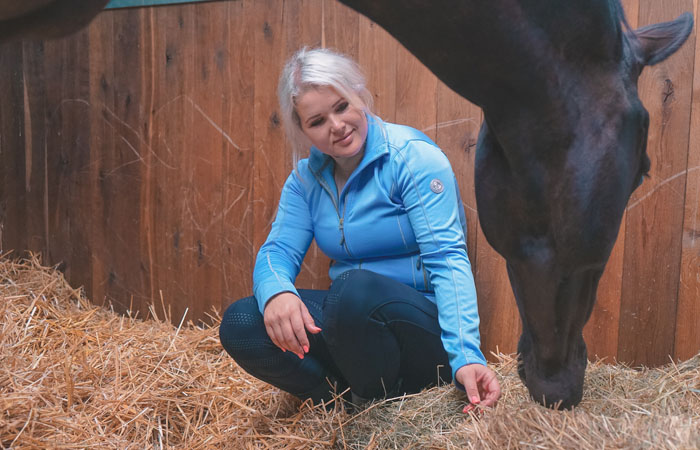 The jacket costs €119,95 and is available in four colors: fuchsia red, slate blue, black and ice blue.
ANKY® Technostepped Jacket ATC202102
This is also a super nice jacket and the pattern on the front and back is beautiful. On the front of this jacket, you've got two invisible zippers and golden details. 
I'm wearing this jacket in the color slate blue.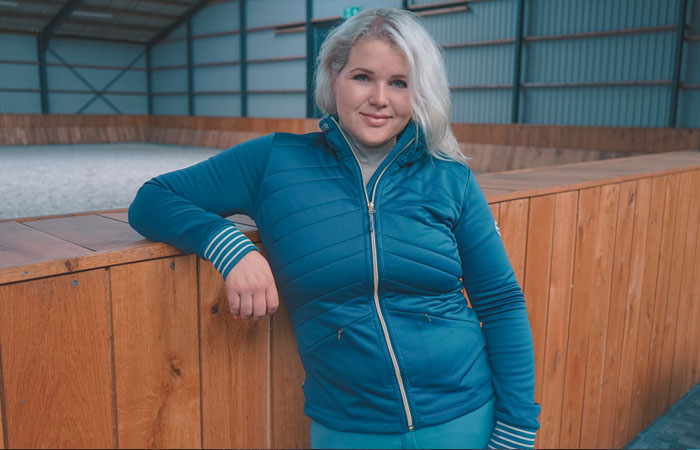 The jackets costs €119,95 and is available in four colors: fuchsia red, slate blue, black and ice blue.
ANKY® Mockneck Shirt ATC202301
In all their fall/winter collections, Anky has these great Mockneck shirts, in other words.. the shirts that have a small turtle neck.
By now I've gathered quite a good collection of mocknecks in the basic colors. So this time I've opted for colors slightly more special, like the golden one that I'm wearing below. I've also got a black mockneck with glitters, icy blue, and one in the petrol color (slate blue) that I'm wearing under the jacket and gilet.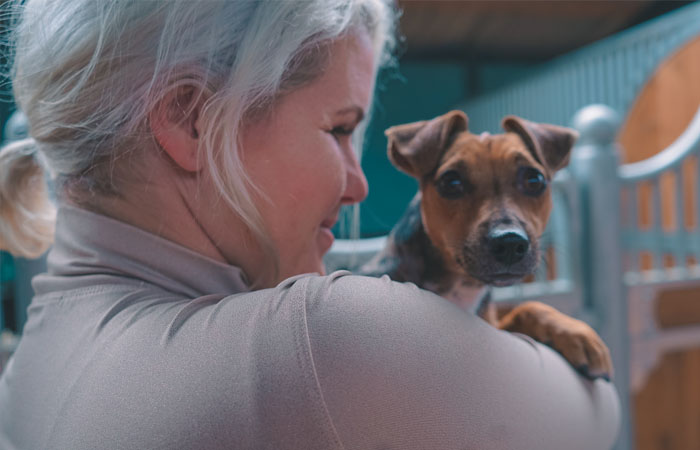 The mockneck shirt is priced at €44,95 and it's available in the colors: gold, black, ice blue, dark navy, golden glow, fuchsia, chili pepper and slate blue.
ANKY® Softshell Jacket ATC202104
This is a fabulous, formfitting softshell jacket with a lot of stretch. The material is super comfortable to move around in.
And of course, softshell is ideal to protect you from rain and wind, without the need to wear a huge jacket. On the sleeves, you've got two black ribbons with glitters. That makes this jacket a little more special than a standard softshell jacket. I really recommend this jacket!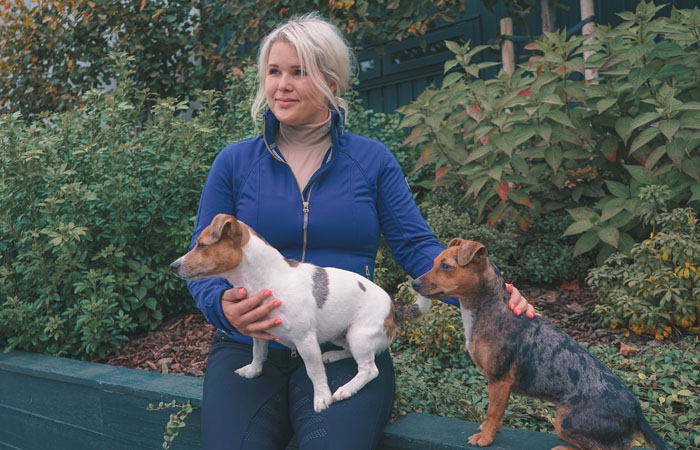 The softshell jacket costs €139,95 and it's available in the colors: chili pepper, dark navy and black.
I've also chosen breeches in the color slate blue, but I'm still waiting for those to arrive.
I'm curious to find out what you think about the items that I picked! Will you let me know in the comments below?