Four tips for making more progress in training
I sometimes wonder if there's a better and faster way to improve yourself as a dressage rider.
Can you, for example, improve your posture in a faster way? Or improve your seat by simply implementing a few tips?
These questions led to a search about how we learn and how our brain processes information. I was happy to find out there are indeed simple tips you can apply to improve your riding. But before I share these tips, I first want to briefly explain how your brain works when you are riding.
What is going on in your brain?
First of all, there are billions of neurons our brain.
You could say that 'branches' grow from these neurons, which we call dendrites. These dendrites grow with new dendrites sprouting from existing dendrites as we learn and develop our skills.
So when you are improving your skills as a rider, dendrites are growing in your brain.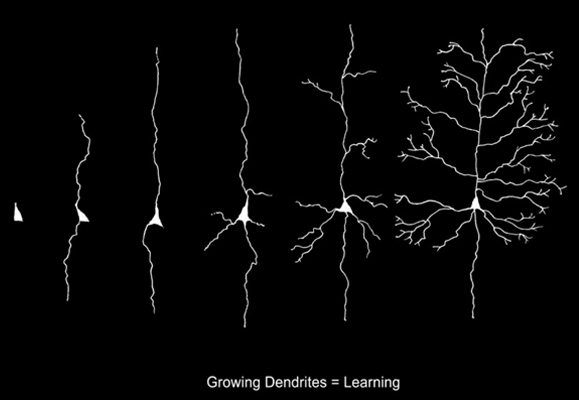 When dendrites of different neurons get close to each other, they can form a bridge between each other. At this point, the neurons are connected and signals can be passed on from one neuron to the other.
How does this relate to you as a rider?
Perhaps you now start to understand how you can give a certain aid or ride a certain exercise. You start to get the aha-moments.
At first, it feels uneasy
We all know that when we start practicing something new, at first it will feel uneasy. It probably won't really go the way you want it to go or you lose that good feeling you were having.
But the more you practice, the better it will become.
In your brain the following happens. The dendrites, which are growing and forming bridges with other dendrites, are now starting to become thicker. The dendrites are developing a special coating to transfer information faster.
You now start to be able to respond faster when riding and it becomes easier to decide on what aids to give.
If you practice a little bit more, dendrites are forming double connections, which make them even stronger! Now you can process information even faster.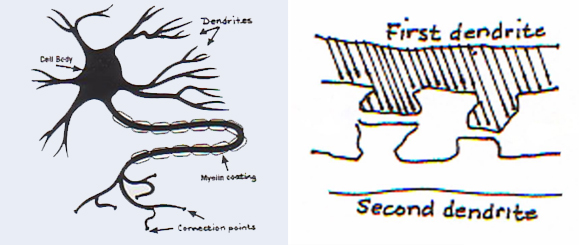 These dendrites will stay around longer and that means that what you've practiced has become part of your skill set. You now own that specific skill. You don't even have to think about it anymore. When you're giving that specific aid, it happens automatically.
Four tips
So how does this relate to improving yourself as a rider? How can we use this information to our advantage?
In order to improve yourself, the transfer of information in your brain has to go as smooth as possible. There are several factors that improve the transfer of information, but there are also factors that can slow it down.
I mention four factors below.
We all know that when we start practicing something new, at first it will feel uneasy. But as we practice, dendrites will grow and become stronger. Thus making it easier to transfer information and to do what you have to do.
1. Avoid stress
When you're training your horse and at the same time training yourself to become a better rider, it is of importance that you don't feel insecure or feel stress. I know that sounds logical, but why is it so important?
Feelings of insecurity and stress trigger the production of certain hormones which block the bridges that are being formed between the different dendrites. This way the signals can't be transferred properly from one neuron to the other.
As a result, you can't think clearly and you can't respond as quickly. At least not like you normally would.
Instead, when you feel self-confident and you have a positive mindset, substances are being produced that stimulate the transfer of information. One of these substances is for example dopamine.
The more positive you are and the better you feel when training, the better your brain can function.
And that can sometimes be difficult when you're very ambitious and tough on yourself. Some riders can get very frustrated when they don't perform well, but feeling frustrated only makes things worse.
2. Build from a solid foundation
Dendrites can only grow from existing dendrites. This means that you can only improve your skills when there's a solid foundation. You can only learn when it's built upon something you already know and a skill you've already mastered.
So make sure you don't want to take steps that are too big. Of course, you have to get out of your comfort zone to improve yourself. It will feel uneasy in the beginning. That's normal.
But if you go too far out of your comfort zone, there won't be enough links with what you already know.
Dendrites can only grow from other dendrites. This means you can only improve yourself when there's a solid foundation. You can only learn when it's built upon something you already know and a skill you've already mastered.
You might recognize the situation where you're in sitting trot and you're trying to improve your seat. But at some point in time you just lose that good feeling and you feel like you just can't sit properly anymore.
Instead of starting to squeeze your legs and holding the reins for support, it's best to take one step back and build from a point that feels familiar.
3. Repetition, repetition and repetition
When you're trying to improve, for example, the way you give an aid or to stay more relaxed in your body, the dendrite that is being formed is still very fragile.
It is that fragile that it can disappear within a few hours so you're back where you started.
Often, you remember only 60 percent after 20 minutes and after 24 hours only 30 percent. However, if you practice again within 24 hours, 80% will stick. So it's much more efficient to practice a new skill more often.
We only have one problem. We can't train our horse multiple times a day but perhaps you have another horse or what about visualization?
It has been scientifically proven that visualization stimulates the same processes in your brain as when you practice in real life. You see, you brain can't tell the difference between something that's really happening and something that's happening in your brain. It still makes dendrites grow and become stronger.
4. Let's play a game!
Like I said before, the production of dopamine is very beneficial as it will improve the transfer of signals in your brain.
The good thing about this is that you can think more clearly, have a better concentration and be more motivated. Another advantage is that dopamine makes you feel happy. So you also enjoy the riding even more.
So, it's clear that we want dopamine, but what triggers the production of dopamine?
Well, for example, dopamine is triggered by playing games.
Now that might sounds a bit weird in relation to your daily training. I mean, dressage is quite serious right?
But try to see if you can add an element of game playing to the training. For example, try to improve your skill between certain letters or be creative in where you're riding your exercises.