Het verbeteren van jouw houding: 5 posities van het bekken die je wilt vermijden
Er is een tijd geweest dat we gebombardeerd werden met blogs, video's, workshops, en trainingsprogramma's over het rechtrichten van je paard.
Natuurlijk is het rechtrichten van je paard een belangrijk thema in de training van je paard. Maar hoe zit het met je eigen rechtgerichtheid?
Een voorwaarde om je paard op de juiste manier te kunnen trainen is dat je...
een onafhankelijke zit hebt
En je de beweging van je paard niet blokkeert.
Als je geen onafhankelijke zit hebt en je belemmert de beweging van je paard, dan kun jij de oorzaak zijn van de scheefheid van je paard. En wat is dan het doel van het rechtrichten van je paard als jij het probleem veroorzaakt?
Ruiterhouding specialist Roos Dyson en paarden bewegingstherapeut Maartje Auceps hebben twee interessante artikelen geschreven over hoe de verschillende posities van ons bekken ons paard kunnen beïnvloeden. Het thema van beide artikelen is: "hoe je zit is hoe je je paard beïnvloedt".
De artikelen zijn in het Nederlands, dus ik zal hieronder kort een samenvatting geven van 5 bekkenposities.
Hoe nuttig is het om je te concentreren op de rechtheid van je paard als jij de oorzaak bent van het probleem?
1. Rotatie van het bekken
De meeste ruiters hebben een voorkeur om het bekken naar één kant te draaien. Eén heup/zitbeen staat dan meer naar voren dan de andere. Je geeft je paard dan in feite het signaal om een bocht te maken.
Roos Dyson: "Problemen zullen zich hoogstwaarschijnlijk voordoen in wendingen, cirkels en bij zijwaarts werk. Aan de ene kant zal je paard makkelijker buigen, maar ook door de schouder uitvallen."
"Aan de andere kant zal het moeilijker zijn voor je paard om de juiste bocht te maken, omdat je hem blokkeert met je gedraaide bekken. Je paard zal op de binnenschouder willen leunen en zal hoogstwaarschijnlijk naar de andere kant willen buigen. Ruiters krijgen vaak het gevoel dat hun paard aan één kant strak in de mond is."
2. Zijwaartse kanteling van het bekken
In deze positie zal een ruiter een ongelijke verdeling van de druk van de zitbeenderen hebben. Deze ongelijke gewichtsverdeling is zowel oncomfortabel als verwarrend voor een paard.
Maarthe Auceps: "Als je zo zit, duw je meer in één kant van de rug van je paard. Dit kan uiteraard pijnlijk zijn voor je paard. Door de verkramping neemt de doorbloeding af en wordt de bewegingsvrijheid in de rug minder."
3. Parallelle beweging naar rechts of links: "naast het centrum zitten
Het zwaartepunt van sommige ruiters ligt niet precies boven het zwaartepunt van hun paard, maar zitten links of rechts van het midden.
Door een ongelijke gewichtsverdeling van de zitbeenderen zal je meer op één kant van de rug van je paard duwen. Door de kramp zal de bloedcirculatie verminderen en de bewegingsvrijheid in de rug minder worden.
Deze houding kan ontstaan door een verkeerd aanvoelen van wat recht is of, en dat is waarschijnlijker, doordat het paard een voorkeur heeft om meer naar één kant te buigen.
Een paard heeft altijd een holle en een stijve kant, net zoals wij rechtshandig of linkshandig zijn. Een paard dat hol naar rechts is zal de ruiter altijd naar de linkerkant van zijn rug duwen en vice versa.
De gevolgen van deze houding kunnen problemen zijn zoals het uitzwaaien van de haunches, problemen met buigen of het niet oppakken van de juiste galopsprong.
4. Voorwaartse bekkenkanteling: holle rug
Als je rug hol is, zijn de spieren in de rug kort en gespannen.
Dit verhindert het opvangen van de beweging en het gebruik van de dieper gelegen spieren die verantwoordelijk zijn voor een goede kernstabiliteit.
Roos Dyson: ",,Een ruiter met een holle rug zit op de voorkant van zijn zitbotjes. Als je op een bal zit en je kantelt je bekken naar voren, dan gaat de bal naar achteren. Deze bekkenstand heeft een vertragend effect op je paard."
"Bovendien duw je de rug van je paard naar beneden, waardoor je een holle rug krijgt, terwijl we juist het tegenovergestelde willen bereiken."
5. Achterwaartse bekkenkanteling: ronde schouders
Wanneer jouw rug en schouders rond zijn, zijn de oppervlakkige buikspieren kort en de rugspieren lang.
Het opvangen van de beweging is min of meer mogelijk, maar de diepe spieren die verantwoordelijk zijn voor het volgen van de voorwaartse beweging worden geblokkeerd. Dit leidt ook tot een negatieve kettingreactie waarbij een goed gebruik van de bovenlijn wordt verhinderd.
Roos Dyson: "Een ruiter met bolle schouders zal op de achterkant van zijn zitbotjes zitten. Als je op een bal zit en je kantelt je bekken naar achteren, dan beweegt de bal naar voren. Je duwt je paard eigenlijk constant naar voren. Een van de resultaten is dat je paard meer op de voorhand en in je hand zal leunen."
"Deze houding kan je paard echter ook afremmen. Je zit achter het midden van je paard, wat impliceert dat je paard jou mee moet 'sleuren'."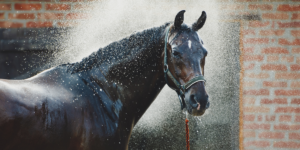 Health and Management
For the optimal functioning of your horse's body, it is important that body temperature remains constant. If your horse gets too hot, certain functions can

Training your Horse
Perhaps you've heard this phrase before: If your horse is 'lazy', then you have to ride a lot of transitions within the gait. Then he